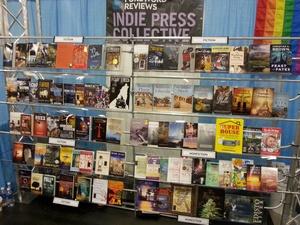 BookExpo America - BEA
New York, May 27-29, 2015
Foreword Reviews Indie Press Collective


We are pleased to provide you with a post show report from the show floor as well as the Foreword Reviews Indie Press Collective booth at BookExpo America in New York, May 27-29, 2015. This year's tagline was "2.5 Days of Serious Business." With a short window of time to reflect on BEA 2015, I'm happy to say the event delivered on the high side of expectations.
BEA officials released preliminary numbers showing total attendance, including exhibitors, of 20,895. The 1 p.m. start time on Wednesday was a new twist, with many attending the BEA Content & Digital Conference earlier in the day. Thursday was the busiest day overall, and the silver lining about BookCon (an event for the public) being held over the weekend was that many BookExpo America attendees didn't leave early on Friday afternoon. BEA was hectic right until 5 p.m. Friday—making for two and a half energized and robust days dedicated to the trade.
Exhibitors large and small showcased mostly new titles scheduled for fall release. In-booth celebrity author signings, various giveaways, and an assortment of costumed characters kept the show lively. As always, there were numerous celebrities in attendance, including Julianne Moore, Nicole "Snooki" Polizzi, Gloria Steinem, Christie Brinkley, Al Roker, and Newt Gingrich. Well-known authors such Judy Blume, John Grisham, Kevin Henkes, Alice Hoffman, Brandon Stanton, and Jonathan Franzen were also in the mix

Our corner booth, #453, was conveniently located near the Librarians' Lounge and down the hall from the American Booksellers Association's Member Lounge.
Foreword Associate Publisher Jennifer Szunko and Sales Executive Stacy Price hosted the booth, enthusiastically sharing information about the books on display with those who stopped to browse. In addition to booksellers and librarians, we chatted with literary agents, media writers, bloggers, authors, and avid readers looking for new books to discover. While Stacy noted that this year's BEA didn't seem as big as previous shows, she was pleasantly surprised by the number of librarians in attendance. She also noted the continued interest in print books and positive energy about titles from indie presses.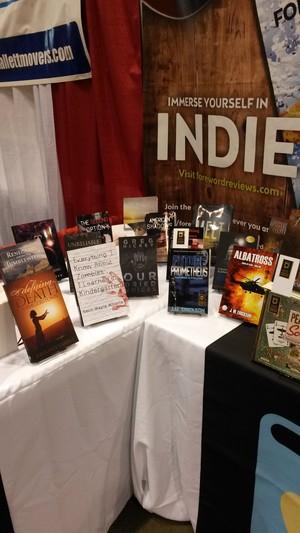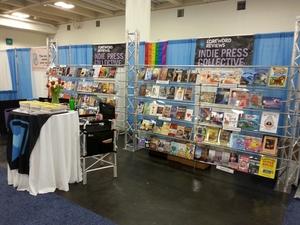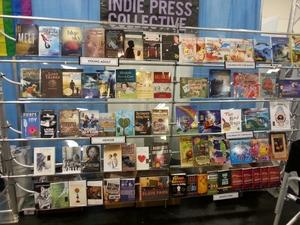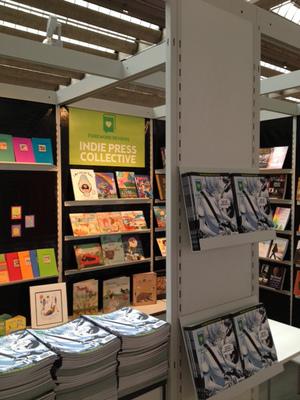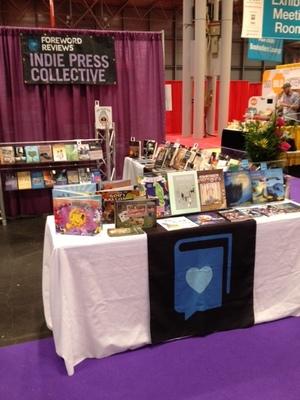 American Library Association Midwinter Conference
Chicago, Illinois, January 30 - February 3, 2015
Foreword Reviews Indie Press Collective

We are pleased to provide you with a post-show report from the show floor and the Foreword Reviews Indie Press Collective at the American Library Association Midwinter Conference in Chicago, Illinois, which took place January 30–February 3, 2015.
ALA officials released preliminary numbers showing total attendance of 10,637, including 3,466 exhibitors. Chicago was an excellent choice for the show (except for the unfortunate inclement weather) as the history of ALA has shown an increase in attendance when taking place in the city.
Exhibitors large and small showcased mostly new titles scheduled for spring release, and several library services companies (mainly technology based) had booths. Author signings, various giveaways, and an assortment of fun book character performances kept the show lively. Screenwriter and actor Jason Segel and Reading Rainbow host LeVar Burton were fascinating speakers at the event, as well as Cece Bell, Françoise Mouly, Jeff Smith, Gene Luen Yang, Ayaan Hirsi Ali, and Dr. Cornel West.
This was the first year Foreword hosted indie press titles at a booth at the Midwinter conference, after many years of attendance. We filled two tables (sporting the Foreword logo on the table cloths) with independent press titles on risers organized by genre. Previous IndieFab Award winners were noted with a bookmark that displayed the shiny IndieFab winner sticker. Each day, we adjusted placement so every title had a chance for "front of table" positioning over the course of the show.
The booth garnered the attention of librarians as we placed a sign over the magazines at the front of the booth with a paper that read: "This is every librarian's dirty little secret." This humorous descriptor of Foreword Reviews' magazine encouraged many intrigued librarians to stop and spend time at the booth. If the purpose of ALA is to get librarians excited about books, mission accomplished! Librarians from around the country stopped by to peruse your books and pick up an "I <3 Indie Books" sticker.
The genres that attendees were most interested in were children's picture books, Young Adult fiction, multicultural books, and books with LGBT characters. Well-designed cover art was also a draw. In addition to librarians looking for books to add to their collections, one librarian expressed an interest in talking to one of our authors about a presentation for patrons and a judge for ALA's W.Y. Boyd Literary Award for Excellence in Military Fiction inquired about one of our titles.

Frankfurt Book Fair
Frankfurt, Germany
October 8 - 12, 2014
The Foreword Indie Press Collective
Welcome to our annual post show report for Frankfurt where we'll try to give you both a feel for the general atmosphere at this important international book event and an "as we see it" view from both locations at the 2014 fair: the Foreword Indie Press Collective stand in Hall 8 (the English language exhibition hall) and the Children's Books USA stand in Hall 3.0 (the international children's books hall).
The Frankfurt Book Fair remains the biggest book and media fair in the world. Beyond the high-visibility sales and publicity campaigns, much more is going on behind the scenes. Every October 3,300 international rights agents descend on this industrial city in southern Germany in search of fresh and exciting titles. And while larger contracts involving celebrity authors and major publishing contracts are often negotiated, signed, and announced before the show, the Buchmesse continues to offer an excellent forum for discovering and purchasing the foreign rights to titles from independent publishers.
Self-publishing is booming and continues to remind traditional publishers who watch their reader base breakaway that these up-and-comers can't be ignored. For the stat fans reading this report, Bowker recently announced that the number of self-published titles in 2013 increased to more than 458,564, up 17 percent over 2012 and 437 percent over 2008. Print titles were up a very strong 29 percent over 2012. A Nielsen Book & Consumer survey showed e-books accounted for 23 percent of unit sales in the first six months of 2014, led by fiction and YA fiction
To give you an idea of the scale of this show, here are more interesting statistics: There are 338,830 square meters of show space at the Frankfurt Book Fair. Hall 8, where most of the English language exhibitors are located, is 30,223 square meters. The Frankfurt Messe also hosts auto shows, food shows, cosmetic shows, etc., and the entire grounds cover 578,000 square meters! But one night after leaving a restaurant, an English speaking taxi driver told us that the Buchmesse was the busiest of all each year. About 7,300 exhibitors from approximately 100 countries were present, and the more than 3,600 events (including 500 in the city itself) attracted more than 300,000 visitors over the course of five days.
Since Frankfurt is a vital component of the publishing world's economic engine, simply being part of the scene on any scale is sound business. The bottom line in foreign rights is to strengthen relationships with as many publishers across as many territories as you can. For lesser-known titles, authors, and publishers, visibility at Frankfurt is an important first step onto the global stage.
As for the general feel of what attracted interest in Frankfurt, children's books, graphic novels, and nonfiction titles in body/mind/spirit and social sciences garnered the most attention. Award Winners also catch the eyes of international publishers intrigued by the seals on the books, which say quality in any language.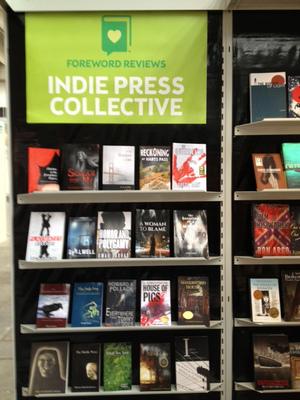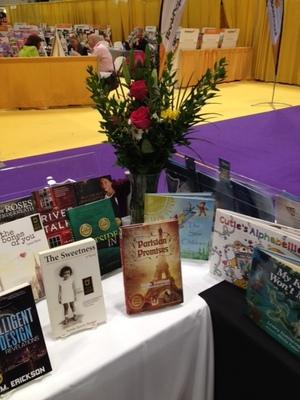 American Library Association

2015 Annual Conference
San Francisco, June 27-30, 2015
Foreword Reviews Indie Press Collective
ALA officials released final numbers showing total attendance, including exhibitors, of 22,696 (a nice bump from last year). There was an increase in both attendees (15,883) and exhibitors (6,813) from the 2014 show in Las Vegas, which had seen a drop from the extremely popular Chicago venue in 2013.
If the purpose of ALA is to get librarians excited about books, mission accomplished! Librarians from around the country stopped by to peruse your books and pick up copies of the Summer Issue of Foreword, INDIEFAB winners list, and show catalogue.
Exhibitors large and small showcased mostly new titles scheduled for fall releases. In-booth author signings, various giveaways, and an assortment of costumed characters (including a friendly robot and some muppet librarians) kept the show lively. As always, there were numerous celebrities in attendance including Roberta Kaplan, Gloria Steinem, Haifaa Al-Monsour, Sarah Vowell, Nick Offerman, Sarah Lewis, Joshua Davis, Edwidge Danticat, Sonia Manzano, Robbie Robertson, David Shannon, Dav Pilkey, Daniel Handler (aka Lemony Snicket), and Jon Muth.
The Friday evening before the show officially opened, we held our seventeenth annual INDIEFAB Book of the Year Awards Ceremony. We listed off over 250 winners in 60 plus categories on ALA's PopTop Stage, right around the corner from our booth. Our Editor's Choice Prize for Fiction went to Sarah Stark for Out There, the Editor's Choice Prize for Nonfiction went to Larry Price, Rosie Price, and Susan Kammeraad-Campbell forEdisto River, and we named Lee & Low Books our Indie Publisher of the Year. We so enjoyed meeting those of you who were able to come. New winner seals were dutifully applied to the appropriate books displayed at our booth bright and early Saturday morning.
Among the many librarians, agents, and editors who stopped by, several were anxious enough for info about particular titles that they left business cards for follow-up. We are in the process of sharing these contacts with you directly. Otherwise, most took information on your book to follow up on their own.